TPG Telecom's strategy aims to capitalise on its strengths and opportunities as a full-service telecommunications company to drive higher utilisation, increase sharing of infrastructure, and unlock value across our asset base.

As we accelerate the benefits of the merger and pursue these opportunities, we have refreshed the guiding principles of our strategy to Integrate and Simplify, Win Smart and Maximise our Potential.
Guiding principles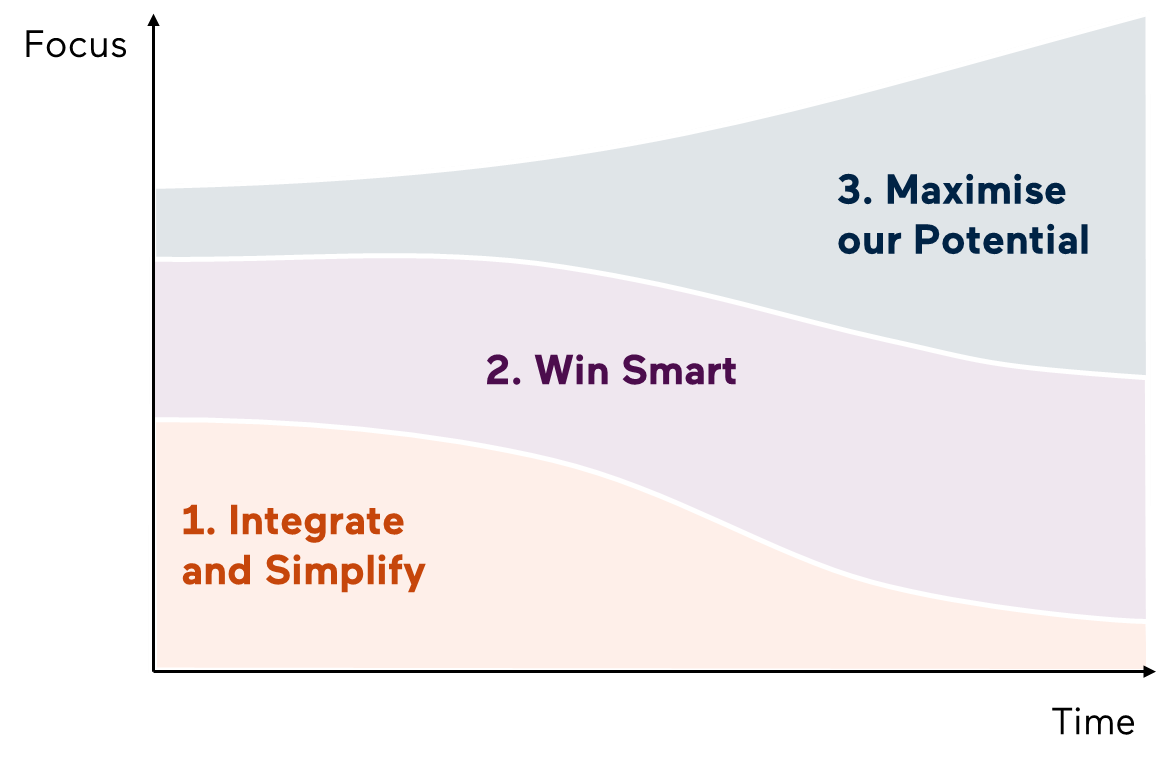 Integrate and Simplify
Integrate and Simplify means creating a lean company that integrates our brands, technology, infrastructure, processes, and people as one. The delivery of merger cost synergies will continue to be a direct benefit of these efforts.

We are putting in place transformation initiatives across the Company – focused on our technology architecture and our operating model – to establish a base from which we can keep recurring operating expenditure broadly flat year-on-year.

Simplification of our brand and marketing strategy is also critical to reducing complexity and enhancing our ability to offer customers a greater number of value-adding products and services, simply and seamlessly.
Win Smart
Win Smart means focusing our investments where a clear infrastructure advantage, increased utilisation opportunity, or valuable adjacency exists.

Leveraging our 5G investments and Vodafone's global 5G leadership as Australia recovers from the impact of COVID will be key. We intend to upgrade another 1000 sites to 5G in 2022. This should create an environment in which mobile subscriber numbers and average revenue per user recover and enable us to build on our strong progress in converting NBN customers to fixed wireless.

There are four pillars to our strategy to grow Enterprise revenue to $1 billion by 2025. These include:
developing an enterprise portfolio for small business;
growing enterprise connectivity through better utilisation of our on-net broadband and NBN services;
building our capabilities in network managed services and security and;
enhancing our Internet of Things and mobile private networks solutions offerings.
Completing the functional separation in our Wholesale business will open up more opportunities to invest in our on-net fibre-to-the-basement (FTTB), hybrid fibre coaxial (HFC) and very high-speed digital subscriber line (VDSL) networks to enable growth as we look to bring more retail service providers on to the network.
Maximise our Potential
Maximise our Potential means developing an efficient and scalable business model that creates a vibrant and dynamic competitor in the telco industry.

To deliver enhanced, end-to-end digitisation in both Consumer and Enterprise channels will require sustained transformation.

We will we enhance the value and capability of our business by investing while also exploring opportunities to drive higher asset utilisation through greater infrastructure sharing.

The pandemic has led to an increased recognition of the critical role telecommunications services play in our economy and society. This has led to increased interest in the sector from pension funds and specialist investors which is creating opportunities for TPG Telecom to unlock greater value for the network infrastructure we own.

Execution of our sustainability strategy is key to the company maximising its potential. We are excited about the commitments we have made in customer wellbeing, environmental responsibility, inclusion and belonging, and the digital economy.
Achievements and objectives