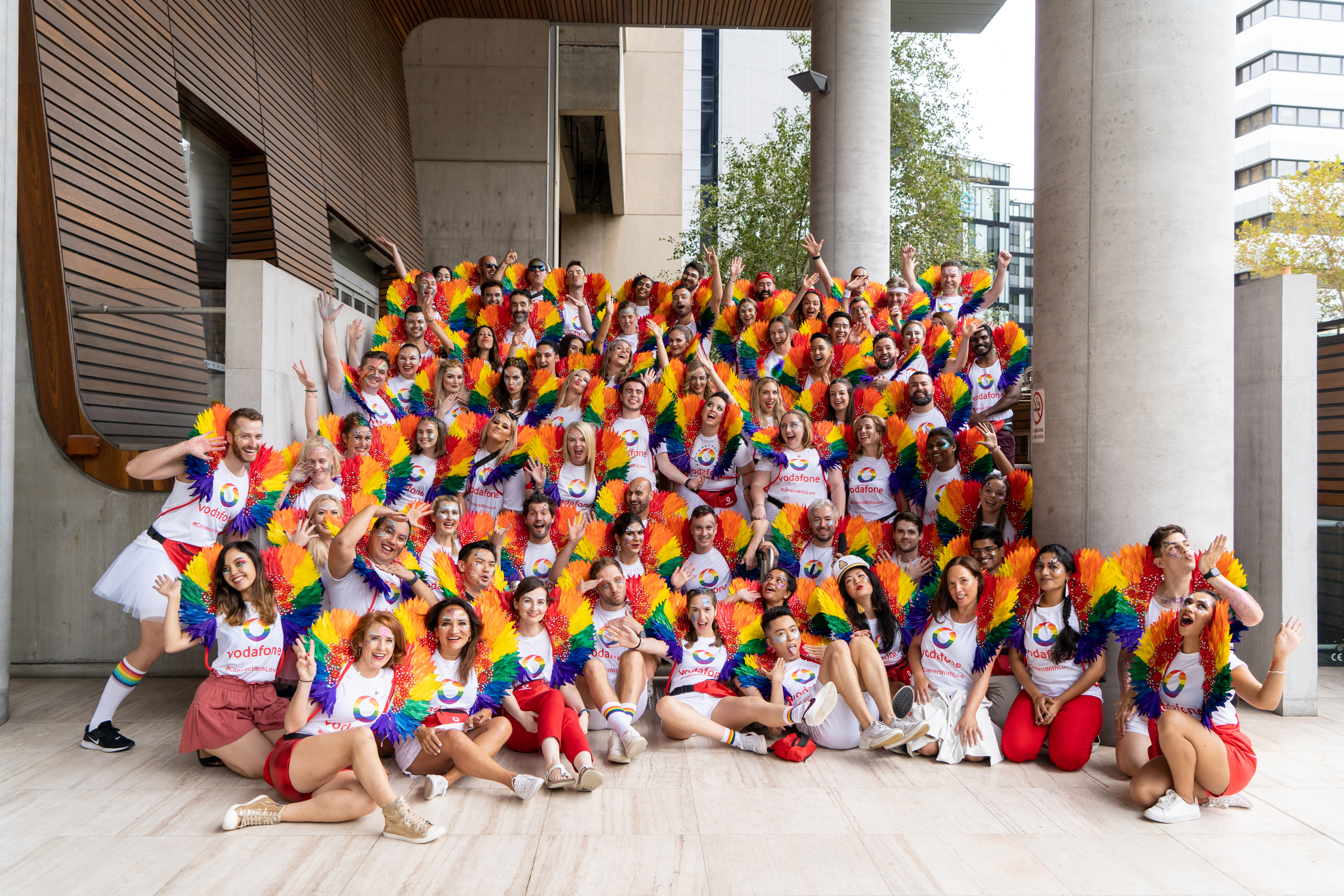 We believe in embracing different backgrounds, experiences and ideas. We know that diverse perspectives lead to better business outcomes. Only by listening to unique perspectives, can we best understand and serve our diverse customer base, collaborate successfully and innovate in a world of increasingly fast-paced change. 
We aim to create an environment of equality where each of us feels supported and respected to be ourselves at work, and are continuing to extend and enhance our long-standing focus on creating an inclusive workplace, where all of our people belong.
Our vision for equality extends to our customers and communities, where we believe we can make a difference. This includes driving initiatives to help influence girls and young women to consider a career in Science, Technology, Engineering and Maths (STEM), and using our role as a leading telecommunications provider to address the inequality and inequity faced by First Nations peoples.
Our commitments include:
Developing and implementing a harmonised approach to gender pay equity across our workforce in Australia by 2022.
Increasing female representation across leadership, STEM functions and all employees by 2024:

Achieving 45% female representation in our leadership by 2024
Achieving 35% female representation across our workforce by 2024
Achieving 20% female representation in STEM functions by 2024 

Increasing year-on-year percentage of people identifying as Aboriginal and Torres Strait Islander, LGBTQI+ or having a disability. 
Implementing our Reflect Reconciliation Action Plan.
Flexibility
Creating a working environment that enables human connection and fosters a sense of community is important in enabling us to live our company purpose and bring to life the Spirit of TPG.
We believe there are great benefits when we connect in person and virtually and are committed to working flexibly, collaboratively and creatively through a hybrid approach.
Our approach to hybrid working empowers our teams to create a way of working that best suits the needs of our people, customers, our organisation and the communities we serve.
We also support flexibility through our various leave benefits that enable our people to, for example, pursue study, take a career break, care for family members, start a family, give back to the community or take an extended holiday. We also provide eligible employees with a Your Leave benefit, providing four days each year to help our people achieve a better work-life balance, focus on their wellbeing, and celebrate cultural or religious holidays.
Gender equality
At TPG Telecom, we want to foster an inclusive workplace that maximises the participation of women in the workplace, while supporting them to develop and progress into leadership roles.
Our focus to date has been on combatting inequality by reducing the gender pay gap and supporting parents at work through several initiatives, including Super Bump, pay equity reviews, and family & domestic violence leave.
Since 2017, TPG Telecom has offered a Super Bump program for female employees as a practical step towards more financial independence. This provides two extra payments of $250 per year for female employees who have been with the company for more than 12 months.. This benefit has now been extended across our TPG Telecom workforce in Australia.
We also have an employee network dedicated to furthering gender equality in STEM named STEMpower. Its aim is to influence girls and women to consider a career in Science, Technology, Engineering and Maths to build a future talent pipeline, while also enabling women at TPG Telecom to grow and succeed.
Supporting working parents and carers
We offer a competitive 16-week parental leave benefit in conjunction with a return-to-work benefit. TPG Telecom is supporting its employees returning to work following parental leave through our 4 for 5 benefit for full-time permanent TPG Telecom employees.
Eligible employees can work four days per week and be paid for five days for the first six months of returning to work from primary carer parental leave. This supports our people's transition back to work by providing greater flexibility without financial detriment during the return period.
Supporting our LGBTQI+ employees
We want our LGBTQI+ (Lesbian, Gay, Bisexual, Transgender, Queer and Intersex) employees and customers to be proud of who they are, because we're proud to stand alongside them.
Our Connect: LGBTQI+ and Friends Network aims to bring together all employees to champion equality and create a safe community for LGBTQI+ employees and allies. Collectively, we work to foster an accepting and inclusive environment where all employees are able to be themselves and belong, to enable us all to thrive together. Our name 'Connect' is reflective of this purpose as we connect with one another internally, and externally with the community locally and globally.
In addition to celebrating key dates of significance throughout the year, we also educate our employees through training and resources around LGBTQI+ inclusion.
In 2021, we introduced gender affirmation leave at TPG Telecom across all our locations, including Australia and Manila.
In 2022 we bought our continued commitment to LGBTQI+ inclusion to life in varied ways, all of which you can read more on in our 2022 Yearbook of Pride.
Reconciliation
At TPG Telecom we support initiatives that deliver better futures for all Australians. We believe everyone has a role to play in creating equity and opportunities for First Nations Peoples, the Traditional Custodians of the lands on which we operate and deliver services to customers and the communities where they live.
In 2021, we released our first 'Reflect' Reconciliation Action Plan that details our commitment to reconciliation as an organisation. As part of this, we launched our employee network The Ngarra Network to help educate one another around cultural awareness as well as the history of Australia.
Ngarra comes from the Dharug/Sydney language, meaning 'to listen'. To build better futures for all Australians, it's imperative that we listen to First Nations voices and work together to build meaningful relationships and support vibrant, connected communities.